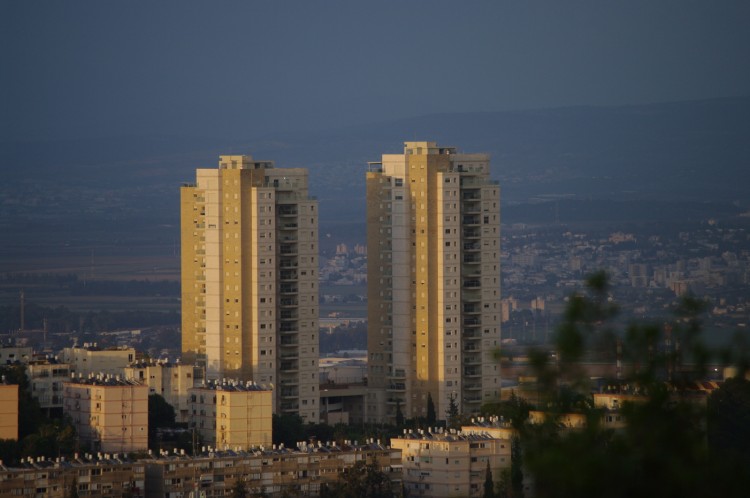 Two Buildings – Many Views
[Click the images below to buy prints or digital copies]
One curious tendency I noticed is a tendency to build buildings in pairs.
Rows of identical building along a street are pretty common. It just sort of makes sense. Pairs of identical building are somewhat less common. Usually these would be tall building, and they are usually unlike any of the other buildings, either in rows or in pairs, around them.
One such pair is the two building I can see from a lookout point in my neighborhood.
These two buildings overlook the Qrayot, the smaller towns just north of Haifa, and their industrial center, as well as the Haifa bay. These two photos were taken within less than half an hour. On the left the sun is already pretty low, thus light is coming at a low angle, one building shadowing the other. Like most such pairs, the two building are closest at one of their corners.
The photo at the right was taken a little later. Some of the tenants have already turned on their lights. It's not quite dark yet, but no longer daylight, and the columns that appeared to be yellowish before, now look more light brown.
Here we can see the same two buildings under a cover of storm cloud. A little off to the distance a sunlit patch can be seen, so this is clearly during the day, even though there seems no more light than in the dusk photos.
Some construction work was done nearby and a crane was parked for the night in this position.  It was a very different view and a fine additional to the collection of views of these two buildings.
Going through some older photos I discovered this one. The two buildings still under construction. When I took this one I had no idea I would find the many different views of these building interesting, so in a way this was a lucky shot.