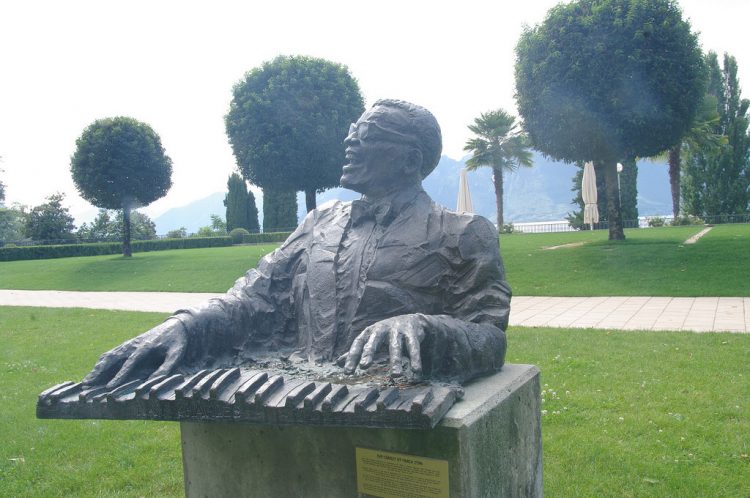 City Art – Sculptures and Music
 [Click on the images below to buy print or digital copies]
On a side in Geneva the boy playing the recorder seems almost meditative, oblivious to the by-passers. Most of them also seem oblivious to his presence. No man can be a prophet in his own country, and urban sculptures often escape the attention of the people living near there. They just are.
What music might with the intense concentration of the boy's features?
Meanwhile, in the city of blues festivals, familiar likenesses of some of the blues greats can be seen in the park.
Even though sculptures are frozen motions, the body language of these performers holds their energy and they dynamic nature. Even without knowing them, the feel of their music is in the air around them, held there by the suggestion of motion.
In another spot near the Geneva lake, a small boy tries to calm a horse. They seem to be a natural fit to the shrubs around them. Sometimes it seems the boy just wants to feed the horse. At other times I imagine he wants to ride the horse. The boy's innocence contrasts nicely the horse's reluctance.
Again, most by-passers pay little attention to either horse or boy. Unlike the sculptures of the musicians in the park in Montieaux. Perhaps because they are recognized. Perhaps because they are located in a specific place for blues greats, in a blues city, while the recorder player and the boy and the horse have faded into the scenery for too many people. How many other things have faded into the background? What else is happening our cities that we no longer see?