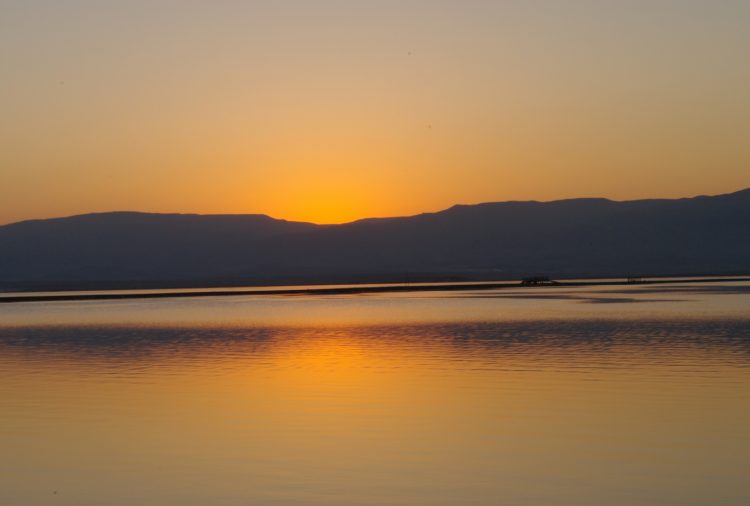 Dead Sea Sunrises
 [Click on the images below to buy print or digital copies]
One thing deeply ingrained in us is that the sea is west of us. Israel is a thin slice of land on the shores of the Mediterranean, its length is several times its width, thus for most of the country, sea is west.  In the Hebrew Bible the word for west is sea, and that's where one might go to look at sunsets.
There are a few places in the country that defy that simple intuition. One of the is the Dead Sea. This large salty lake, also the lowest point in the world, is on our eastern border, between Israel and Jordan, and it's one of the places where we get to watch the sun rise over a the water.
Watching the sunrise over the Dead Sea, looking at the Mountains of Edom on the Jordanian side, at first we see sky gradually assuming the sunrise colors, the dark shadow of the mountain ridge providing a sharp contrast to the early morning light. The waters reflect the colors, but the sun itself is not yet visible.
For a long while it's all about the colors, towering far above the mountains, while also playing in the currents, and even in the shore side puddles.
finally, a brighter spot starts growing. We can almost see the sun.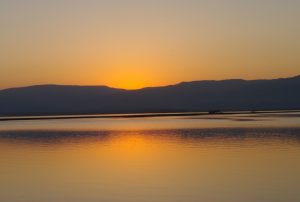 Looking in another direction on can see the sea side cliffs and their partial reflection in the water. Looking close, we can almost see the cliffs on the other side as well.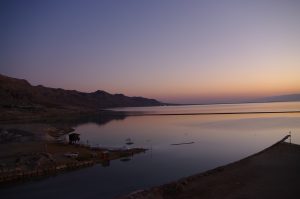 The Dead Sea has not escaped human intervention. In this area there are dried strips that serve as access road to where its mined for its wealth of materials. Regardless of the industrial effects on the place, this image of the sun, already semi visible above the mountains, just above a vehicle on the access road.